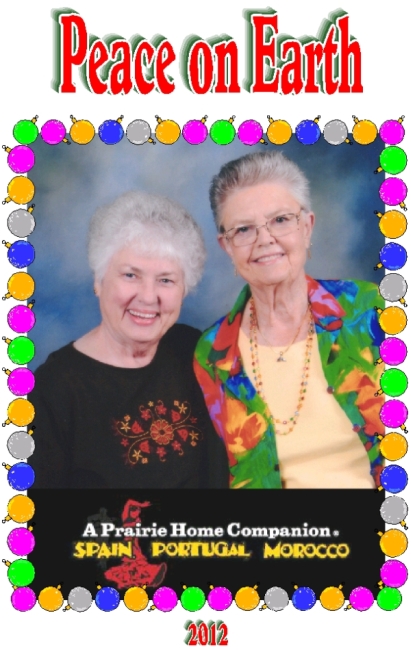 click here to view all pictures
| | |
| --- | --- |
| Our Kitchen is gorgeous. It was finished by March with appliances, too. Pat's the cook and is loving it. | |
| | A cruise with our church, MCCSD, provided us with an additional treat, dinners with our founder, Rev. Troy Perry. |
| The price of gas finally sent Pat over the edge -- we got a new Prius -- average 50 MPG -- happy us. | |
| | San Diego State University brought us a special guest; the Dalai Lama -- awesome! |
| The Borego Springs retreat was great this year, and an inspiration as well. Upon returning, we began with weight loss and our never ending battle of the bulge. | |
Emi joined us again for awhile this year after a fall broke her hip. She is doing pretty well now and went with us to see the musical drama, Allegiance.
Pat continues with Swedish lessons and enjoys working with the people
of the House of Sweden in Balboa Park. She still does their website, too.
Sandy is still a button nut & continues doing the newsletter and website.
The San Diego Airport button display turned out really lovely.
| | |
| --- | --- |
| August brought us to Sweden for a week where we enjoyed seeing many of our cousins. Exciting! | |
We finished the month of August on the Garrison Keillor's Cruise which left from Amsterdam. We visited many of the ports on the Mediterranean.
Some of the stained glass windows in
......
Work on the Cathedral began in 1882 by Antonio
the Sagrada Familia Cathedral in Barcelona.
...
Gaudi; not expected to be finished 'til 2026 or 2028.
While on board, Sandy pretended that she was in the Harry Potter Chess game. We finished the trip with two nights in Barcelona before returning home -- fun!
We just returned in time to spend a week on a mini-vacation with Mavis, my cousin from Australia.
Next, we were off on a 10 day stay with Sue Bixler on Kailua, Oahu. The beach is one house away and nearly private. We spent an evening with Pat's college friend, Gail, and her husband, Phil.
...
Warm wishes to you all, Pat and Sandy
Fiji and Australia | Fort Lauderdale | Hawaii 2001 | Kumi's Visit to San Diego | Cruise
Fresno and Santa Cruz | Japan | Sandynpat's Homepage | Denison 40th Reunion
Maui2002| Sweden | Southwest | Kingsburg | Ingalill
Pictures taken in June 2003 | Garden Compass Exotica Dinner
Fresno and Kingsburg | Garden Compass Rose Tour|
Florida trip with Nancy and Lea January, 2003 | Kona 2003 | Wendy's wedding
Alaska 2004 | Our 20th Anniversary party | Kailua 2004 | Washington DC 2005
Ingalill 2005 | Kona2005 | Scarsdale Reunion | Shaker Reunion | Kailua06 | Sweden07 | Hawaii07
Italy08 | wedding | Hawaii08 | Sacramento 09 | 2009 Holiday card | Kona 09 | Chinese New Year |
Kailua 2010 | Holiday Card 2010 | Kailua 2010
Kona 2011 | Mexican Cruise 2012 | 2012 Holiday card