Pat's second 50th reunion -- this time Shaker Heights High School
near Cleveland, Ohio July 7-9 2006

Pat move to Cleveland in the summer of 1955 and went to Shaker Heights High School her senior year. She got EMAIL from her best friend Mary that she was going to the reunion, so we decided to go. We stayed in adjoining rooms and had a wonderful time together. Friday night we heard on T.V. there was a free Cleveland Symphony concert downtown followed by fireworks, so we took the Shaker Heights Rapid Transit (now called the RTA) downtown to enjoy the concert and fireworks. We had a wonderful banquet Saturday night followed by a Sunday brunch the next day.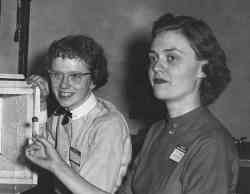 Mary and Pat at the Northern Ohio science fair in 1956

Click on an image to see it larger, Use the back function to return to this page.
---
Web page and images generated using SuperJPG
8/5/2006 14:21

Fiji and Australia | Fort Lauderdale | Hawaii 2001| Kumi's Visit to San Diego | Cruise
Fresno and Santa Cruz | Japan | Sandynpat's Homepage | Denison 40th Reunion
Maui2002| Sweden | Southwest | Kingsburg | Ingalill
Pictures taken in June 2003 | Garden Compass Exotica Dinner
Fresno and Kingsburg | Garden Compass Rose Tour
Florida trip with Nancy and Lea January, 2003 | Kona 2003 | Wendy's wedding
Alaska 2004 | Our 20th Anniversary party | Kailua 2004 | Washington DC 2005
Ingalill 2005 | Kona2005 | Scarsdale Reunion | Shaker Reunion